A driver licence issued by a country outside the European Union is only recognised for one year once the person acquires "normal residence" in France, normal residence being defined as the place in which you live for at least six months (185 days) a year due to professional or personal attachments. If you are a foreign student in France, however, you can drive with your non-European licence during your studies (see below for the specific case of dual nationals).
Where to apply?
Since 4th August all applications are on-line at https://permisdeconduire.ants.gouv.fr/Actualites/Echange-de-permis-etranger-faites-votre-demande-en-ligne
See instructions below
Who qualifies?
To qualify, your licence must be valid and issued by the country in which you had normal residence at the time.
Dual nationals
Anyone with a driving licence issued by a State outside the European Union and the European Economic Area, must apply to exchange their licence for a French licence within a period of one year following the acquisition of normal residency in France.
For anyone with the nationality of a member country of the European Union or another country which belongs to the European Economic Area, Switzerland or Monaco, including those who also have the nationality of the State that issued the licence, the date of acquisition of normal residency is defined as being the 186th day following the date of their arrival in France.
This means that if you are European with a driving licence issued by a State outside the EU and EEA, you must apply to exchange your licence for a French licence between the end of the 6th month of your stay in France and before the end of the 18th month.
If the nationality you are using to live in France (an EU passport for example) is different from the country that issued the licence, you must also prove that you were a normal resident in that country. For example, you have a Greek passport but an Australian licence. You must prove that you were an Australian resident when the licence was issued. The easiest proof is a tax declaration but a work certificate, rental agreement or other document proving residence can be used too.
Provisional licence
If you have an existing driver's licence that is less than three years old then your newly issued French licence will also be a probationary one until a three-year period has elapsed.
What about a motorcycle licence?
An update on the French government website at the end of January 2021 unfortunately provides the information that it is not possible to obtain an open motorbike licence (permis moto A) through an exchange. A restricted motorbike licence (permis moto A2) only will be issued (a power output of less than 35 kW). To be upgraded to an open licence, you are required to have 2 years of practice and 7 hours of additional training with a driving school.
Unfortunately, there is no way of getting around this as it applies to all French motorbike licences.
When to apply?
The deadlines are as follows:
1st carte de séjour : Less than one year after your card was issued
Visa de long séjour valant titre de séjour: Less than one year after the date of validation by OFII.
N.B. If the deadline for filing your application was between 12th March 2020 and 23rd June 2020, you have until 23rd September to file your application via the on-line procedure.
It's best to start the process a couple of months ahead of time as some documents may require a little time to acquire.
What do I need?
An Australian driver licence and a driving record or traffic history
In addition to your national driver licence (an international licence is not sufficient) you will need an Australian driving record or traffic history (licence details) less than 3 months old, which is normally only available to the driver themselves. It can be ordered on-line but in some States, it must be sent to an Australian address, usually the last one on record. If you haven't already done so, you'll need to officially change your address to an address in Australia where the record can be sent. The system is different for each state. If you have a choice between an on-line version and a printed version, you can choose the on-line version. All the relevant links are given at the end of this post. The traffic history (licence details) is called "Droits à conduire" in French and must prove that your licence is currently valid. It must also give the date on which your licence was first issued. A record of traffic infringements is not enough. If you have held more than one Australian licence, it's the last one that is needed unless the current record does not indicate the date of first issue. Then you will need a record from the corresponding State.
A passport photo
Proof of address
Proof of residence
Translation into French
You will then need to have your national licence and driving record/history translated by a court-certified translator. The official list can be found on the Court de Cassation website https://www.courdecassation.fr/informations_services_6/experts_judiciaires_8700.html#experts.
This is the official list of certified translators in France. All other lists are usually agencies in disguise. Translation agencies cannot be certified themselves, only the individual translators who carry out the work which is usually outsourced.
You can have the translation carried out by a translator living anywhere in France. There are no fixed prices for certified translations in France so they can vary considerably. You will need to take your licence and history to the translator in person or send them a good quality scan by email or a colour photocopy by post. A good quality scan means that it must be done with a scanner/photocopier and not a phone unless you have a special app.
Translators usually ask to be paid in advance by bank transfer, PayPal, etc. The translation is sent back by pdf and post. I personally prefer the "lettre suivie" solution. A sticker costs about 40 centimes and means you can track the letter which will be deposited in your mail box and not have to be collected at the post office if you're not home, like a registered letter (lettre recommandée) does.
On-line application process
All applications are now made on-line at https://permisdeconduire.ants.gouv.fr/Actualites/Echange-de-permis-etranger-faites-votre-demande-en-ligne
1/ Register on the website
2/ Follow the steps (you can use Google Translate to help you))
3/ Photo:
You will need an approved passport photo. This can be obtained in most photo booths (see complete list for Photomaton on https://reseau.photomaton.fr/. You can also use a photo app: https://freeappsforme.com/passport-photo-apps/. However, the simplest way is to use a Photomaton which also provides a digital file that you can transfer directly, otherwise you will have to send the photo by post. Look for a photobooth that says "Agrée ANTS SERVICES EN LIGNE".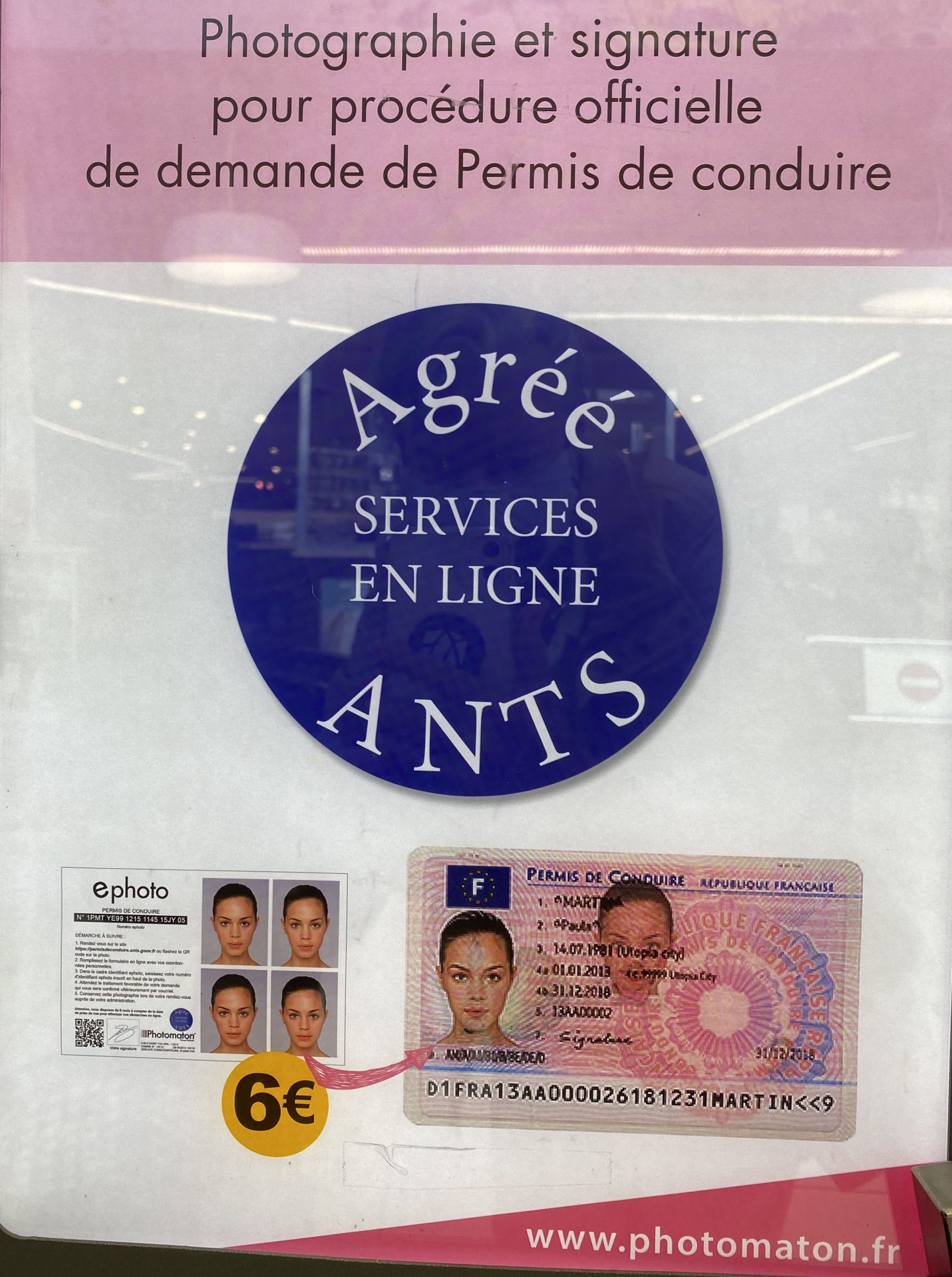 4/ Proof of address:
The most common documents are your phone bill and electricity bill.
You can also ask your landlord to write a letter saying that you are being hosted by them (lettre d'hébergement). Don't forget to include the date you arrived. The person should say you have been continuously living with them since a specific date. You will need a copy of their ID.
5/ Proof of residency:
You can use your "titre de séjour", stamps in your passport, a letter from your landlord, lease receipts, a letter from the town hall in small towns, or anything else that will prove you have been living in France for the specified amount of time.
6/ Driving licence
Two separate files: front and back. I suggest you name them blow_joe_permis_recto [front] and blow_joe_permis_verso [back]
7/ Translation of driving licence
One file with the licence and translation both stamped. Just the translation is not sufficient.
I suggest you name the file blow_joe_permis_traduction_certifiee
8/ Droits à conduire (driver history/record, etc. depending on State)
This document must prove that your licence is currently valid. It varies from State to State. NSW: driving history QLD: traffic history, VIC: driver history, SA: driving history, WA: traffic infringements, ACT: driver licence information, NT: driver licence history
I suggest you name it blow_joe_droits_conduire
9/ Translation of droits à conduire
One file with history/record and translation, both stamped. Just the translation is not sufficient.
I suggest you name the file blow_joe_droits_conduire_traduction_certifiee
What happens next?
After your application is examined, you will be systematically asked to provide your original licence.
You will be contacted by the authority concerned and issued a certificate of secure deposit (ADS) for your Australian driver licence.
You can use the ADS to drive while waiting for your French licence to issued, within the limit of the date of expiration of your Australian licence.
How long will it take?
The processing time will vary according to the complexity of your application and mainly depends on how long it takes to check your right to drive (driving history).
How can you track your application?
You can write an email or phone CERT de Nantes – Suivi de l'échange du permis de conduire
By email : cert-pc-epe-44-usagersEPE@interieur.gouv.fr
By phone : 02 55 58 49 00
If you move during the process
Email the above address, together with a pdf version of proof of domicile and the ADS (i.e. interim licence) or, if you haven't received the ADS, your birth name, given names, date of birth and nationality of the licence.
The French licence is then posted to your home address.
What sort of licence will I get?
The licence is not probationary unless the original licence is less than 3 years old.
The issue date indicated on the licence is the issue date of the French licence. The licence is valid for 15 years from the issue date (except when a medical check-up is needed, for drives of HGVs for example).
If you would like me to translate your documents (I am certified as a translator by the Orléans Court of Appel and live in France), you can phone 06 76 41 99 43 or write to kneipp@kneipp-traduction.com. To know more about me professionally, you can check out my website www.kneipp-traduction.com.
Good luck!
All information taken from the official government site https://www.service-public.fr/particuliers/vosdroits/F1460, verified in august 2020.
LINKS TO OBTAIN AN AUSTRALIAN DRIVING HISTORY/TRAFFIC RECORD
NSW https://www.service.nsw.gov.au/transaction/request-driving-record
QLD https://www.service.transport.qld.gov.au/applyformytraffichistory/public/Welcome.xhtml?dswid=-9714
VIC https://billing.vicroads.vic.gov.au/driverhistory
SA https://www.sa.gov.au/topics/driving-and-transport/licences/drivers-licence/check-your-driving-history
WA http://www.dmp.wa.gov.au/rsd_help/index_2073.aspx (Make sure you get the Driver's Licence Details)
TAS https://www.transport.tas.gov.au/registration/information/search_applications
ACT https://www.accesscanberra.act.gov.au/app/answers/detail/a_id/1581/~/act-driver-licence-information#!tabs-7
NT https://nt.gov.au/driving/driverlicence/renew,-change-or-update-your-licence/apply-for-your-driver-licence-history